Posted by Jennifer (the student) on June 13, 2012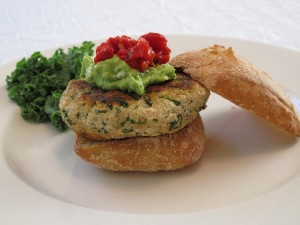 INGREDIENTS
½ cup panko breadcrumbs
2 TBSP Dijon mustard
2 TBSP A1 sauce
2 TBSP Worcestershire sauce
1 cup finely sliced kale (with stems removed)
¼ cup finely chopped onion (we like a sweet onion)
¼ cup diced macadamia nuts (I used Trader Joe's dry roasted & unsalted diced)
12 oz firm tofu (drained)
olive oil (for cooking)
4 buns/rolls of your choice
1 avocado
1 TBSP mayonnaise (I used veganaise)
INSTRUCTIONS
In medium sized mixing bowl, combine all ingredients. Knead together with hands until blended.
Shape into patties. Makes 4 to 5 large sliders or 3 to 4 large regular patties.
Lightly oil a non-stick pan with olive oil and bring to medium heat on stovetop.
Add patties to pan and brown on both sides. Approximately 4 to 5 minutes per side.
While patties are cooking toast buns in a non-stick pan on medium heat.
In a small bowl, combine avocado and mayonnaise and set aside.
Assemble burgers and top with avocado mixture and roasted peppers and/or tomatoes.
Enjoy!
*Garnish with: tomatoes and/or roasted red bell peppers
♥ ♥