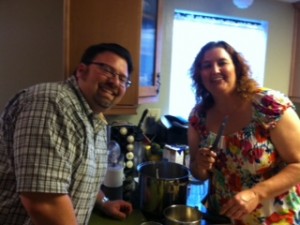 Posted by Jennifer (the RD) on June 29, 2012
As a dietitian, I have spent the entirety of my career trying to teach healthy eating habits and/or specific diet therapies to people.  I have learned along the way that the most effective way to teach about nutrition is through hands on demonstration.  Whether it was getting senior citizens to fold their own vegetable wraps or  enlisting my dialysis patients to assist with making low phosphorus tortillas, "hands on" lessons always seemed to stick.
I have also learned that the same things applies for friends and famiy. Just last weekend, I had my friends Christina and Steve over for a cooking lesson.  Not only was I able to teach them some valuable lessons about creating healthy food, but we also had a great time!
 ♥ ♥