Posted by Jennifer (the student) on March 17, 2012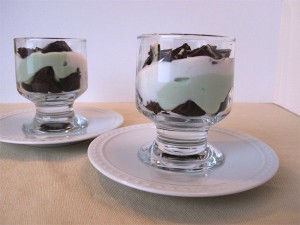 Happy St. Patrick's to all!
I have a very quick recipe for you that requires mostly just assembling.  I think this sweet treat is lighter than most trifles and it is quite tasty. Enjoy!
Ingredients
Bottom Layer
chocolate brownies or cookies (I used Laura's Wholesome Junk Food Mint Double Fudge Bitelettes)
Pudding Layer
1 package of firm silken tofu
2 TBSP agave nectar
1/2 to 1 tsp mint extracts
2-3 drops of green food coloring
Cream Topping
  1 can coconut milk
 2 TBSP agave nectar
Candy Topping
several mints or chocolates (I used Newman's Own Dark Chocolate peppermint cups)
Instructions
Rough chop or crumble brownie/cookie to cover bottom of container.
Combine tofu, agave nectar, mint extracts and food coloring. (I used a immersion blender)
Top brownie/cookie layer with pudding.
Blend coconut milk and agave nectar with hand mixer until it thicken a bit.
Top pudding layer with cream topping.
Rough chopped candy and sprinkle on top.
Keep refrigerated until served.
* I used small trifle glasses but this could be made as a traditional trifle too.
♥ ♥