Posted by Jennifer (the student) on April 18, 2012
 Happy Wednesday! I am very excited to participate in my first What I Ate Wednesday. I used to keep a food journal and I forgot how helpful it is to record your meals. This month's theme is "serve up an extra cup of veggies"; I am always trying to work more vegetables in to my diet. Thanks to Jenn @ Peas and Crayons for hosting.
Here goes my first try!
Breakfast: Banana Scramble (click here for the recipe), Decaf Coffee with Hazelnut Milk & Stevia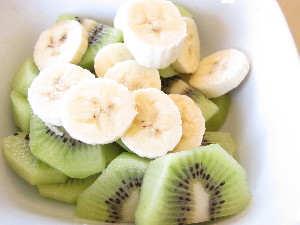 Mid-Morning Snack: 2 Kiwis, ½ banana
Lunch: 2-Tofu Tacos from Wahoos, Grande Iced 2 Pump Chai Latte with Soy Milk from Starbucks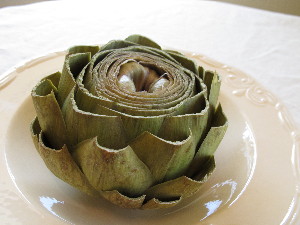 Mid-Afternoon Snack: Steamed Artichoke with Trader Joe's White Bean Hummus
Dinner: Leftover Tofu/Veggie Stir-Fry with Quinoa. Recipe will be posted tomorrow! Click Here for recipe!
I hope you had a wonderful day full of healthy meals!
♥ ♥