Posted by Jennifer (the student) on May 30, 2012
Hello Everyone. Happy "What I Ate Wednesday"! This is an exciting post because it is my 7
th
WIAW and it is also jenmijenmi's 100
th
post. Last fall, my friend Jennifer and I thought of starting a blog that would share our perspective on healthy food and lifestyle from a registered dietitian and a dietetic student. We are having fun so far and we are looking forward to seeing what the future holds for our next 100 posts. 🙂  Thank you to Jenn at
Peas and Crayons
for hosting. This is what I ate:
Breakfast (6:30 am)
Coffee with hazelnut milk and stevia.

A blueberry and banana smoothie.
Blueberry and Banana Smoothie Recipe
Ingredients
1 frozen banana
½ cup fresh or frozen blueberries
1 cup unsweetened coconut milk (any milk)
1 heaping tablespoon almond butter (any nut butter)
1 generous sprinkle of cinnamon
Directions
In a blender, blend banana and milk until blended.
Add blueberries, almond butter and cinnamon and blend until smooth about 1 minute.
*Options: Add 1 heaping teaspoon of spirulina. And/or add ½ cup frozen peaches or mango.
AM Snack (10:00am)
Cubed Watermelon.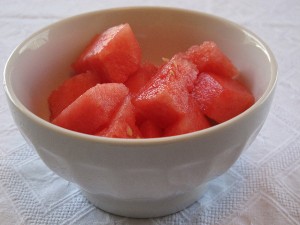 Lunch (1:00pm)
Garlic mushroom flatbread from Green Bliss in Fullerton again.
After Lunch Treat (2:00pm)
Half of a vegan cookie dough brownie from the Gypsy Den that I picked up a couple of days ago.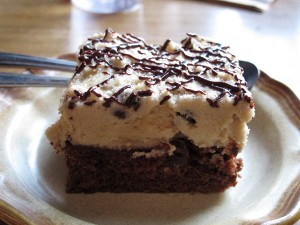 PM Snack (4:00pm)
Roasted carrots. On the weekends, I roast up a bunch of different vegetables so we can snack on them through out the week.
Dinner (6:00pm)
A large green salad from Kentro in Fullerton. This salad is called Three Chromo and I love it. It came with beautiful bread that I did not eat because once I start it is hard to stop.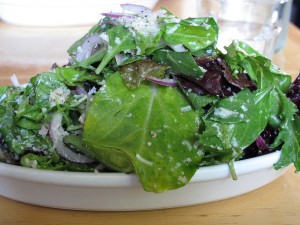 Thanks for stopping by. I hope your day was full of healthy meals. 🙂
♥ ♥