Posted by Jennifer (the student) on May 15, 2012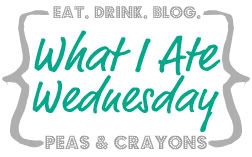 Hello Everyone! Happy "What I Ate Wednesday"! WIAW has become something I look forward to each week. I enjoy sharing and seeing everyone's posts. Already I have been inspired and found many new recipes. Now that I am on summer break I plan to try all these recipes I have discovered. Thank you to Jenn at
Peas and Crayons
for hosting.
This is what I ate:
Pre-Breakfast (6:30am)
An un-pictured coffee from Starbucks I picked up on my morning walk.
Breakfast (7:30am)
My old reliable smoothie made with bananas, blueberries and peaches.
AM Snack (9:00am)
I am so sad I found these waffles at La Pain Quotidien because I like them too much. These waffles are packaged to go by the register and I never paid much attention to them. Until one day, we grabbed a couple to go and now I am hooked. 🙂
Lunch (11:30am)
While I was out running errands, I stopped for lunch at my new favorite place Paninoteca Maggio in Santa Ana. I had a roasted vegetable sandwich with a latte. I am in love with this sandwich it is so tasty!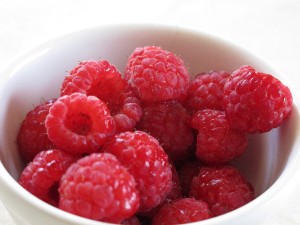 PM Snack (2:30pm)
Raspberries – soooo sweet!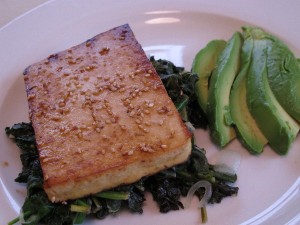 Dinner (5:30pm)
Fred's Lemon & Ginger Kale with Sesame Tofu Steak. This is the recipe I submitted for the Virtual Vegan Potluck last Saturday. We are enjoying this recipe so much; I think we will be making this all summer.
Thanks for stopping by. I hope your day is full of healthy meals!
♥ ♥