Posted By Jennifer (the student) on June 27, 2012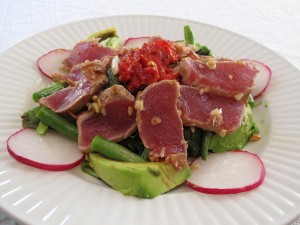 Ingredients:
1 good size Ahi tuna (preferably sashimi grade) steak for 2 persons
1/3 cup of low sodium citrus soy sauce
2 cups of kale with stems removed and cut into bite size pieces
½ cup of white onion (more or less depending on your like of onions) cut into bite size pieces
2 handfuls (approximately 24) of French greens beans (trim ends off) cut to bite size pieces
¼ cup of crushed Macadamia nuts
I avocado, sliced into bite size pieces
¼ cup of diced roasted peppers for garnish
2-3 radishes sliced for garnish
4 Tbsp olive oil (half for tuna and half for veggies)
1 Tbsp finely chopped ginger
Instructions:
In a small pan marinate tuna with citrus soy sauce for about 5 to 10 minutes.
Remove tuna from soy sauce and save the remaining soy sauce.
Add 2 Tbsp of olive oil to a sauté pan and heat in med-high heat.
When the oil is hot, add onions, ginger and green beans cook for about 3 minutes.
Add kale, cook for another 5 minutes.
Add the soy sauce and simmer at low heat.
Add 2 Tbsp of olive oil to a sauté pan and heat in high heat.
Roll the tuna in crushed Macadamia nuts and sear tuna in hot olive oil, turning after you see a hint of white on the tuna steak (less than a minute on front, back and sides).
Remove the tuna and slice (see photo above).
Drain soy sauce from the kale, green beans etc. into sauté pan you seared the tuna.
Add the kale and veggies in the center of plate arrange tuna around veggies, slice radish and arrange radish around plate, add avocados in the same manner and finally add some of the soy sauce in searing pan on top of tuna.
Enjoy.
♥ ♥