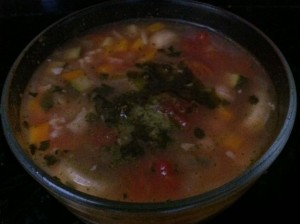 Posted by Jennifer (the RD) on June 6, 2012
Kuleto's minestrone
This is truly the BEST minestrone soup that I have ever had.  For those of you that are not familiar with the culinary SOS section of the Food section of the LA Times, it is a great food column that is written in response to readers' requests for dishes that they have tried at restaurants and wish to replicate at home.  This is a recipe from Kuleto's In San Francisco.  It really is delicious.  I know my recipes are usually simplistic and made up from things I have in pantry/refrigerator, but this time, I went all out and am actually posting a recipe that I followed to the "T" and was absolutely delicious!  TIP:  In my opinion, this recipe should be doubled or tripled because it is so delicious.   You'll want to take it for work the next day. 🙂
Ingredients:
3 TB olive oil, divided
2 oz. diced pancetta
½ cup diced onion
½ cup finely diced carrot
2 TB finely diced fennel bulb
½ cup finely diced celery
¼ tsp. minced garlic, from about 1 clove
1 ½ tsp. chopped thyme
2 ½ tsp. chopped basil
¾ tsp. chopped rosemary
1 (14.5 oz.) can diced tomatoes
2 cups chicken broth
Salt and white pepper
½ cup sliced mushrooms
¼ cup diced zucchini
½ cup diced broccoli rabe
¾ cup orzo pasta (from about ¼ cup uncooked)
½ cup cooked white beans
2 ½ tsp. chopped parsley
2-3 TB basil pesto, divided
In a large heavy bottomed saucepan, heat 1 TB oil over medium high heat until hot.  Add the pancetta, onion, carrot, fennel, celery, garlic, thyme, rosemary and basil, and sauté until the veggies are lightly softened and the mixture is aromatic, about 5 minutes.
Stir in the diced tomatoes and broth, and bring to a boil over medium high heat.  Reduce the hat to a gentle simmer, cover the pan, and cook the soup base until the flavors are married and the veggies are soft, about 45 minutes.  You should have about 1 quart soup base (add additional water if needed to bring the volume to 1 quart).  Taste and season with ½ tsp.  salt and ¼ tsp. pepper, or as desired.
When the soup base is almost done, prepare the mushrooms and the rest of the veggies:  in a medium, heavy bottomed pot, heat the remaining 2 TB oil over medium high heat until hot.  Stir in the mushrooms, zucchini and broccoli rabe until crisp-tender and lightly colored, 6-8 minutes.
Stir in the soup base, the cooked pasta and beans, and the chopped parsley, and cook until the soup is hot.  Taste once more and adjust the salt and pepper if desired.  This makes about 1 ½ quarts of soup.  Ladle the soup into bowls and garnish each with ½ TB of pesto.
♥ ♥