Posted by Jennifer (the student) on November 6, 2012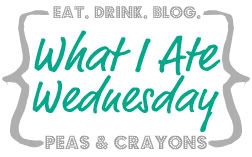 Hello, Everyone. Happy What I Ate Wednesday!!  I am sharing my meals from last Saturday, this was a busy day with most of my meals eaten out. I can't believe how busy this time of year is getting so fast. Last week was Halloween, Tuesday was election day and in two weeks Thanksgiving will be here.  Thank you to Jenn a
 Peas and Crayons 
for hosting the WIAW!  
This is what I ate:
Breakfast (7:30am)
I started the day with coffee and some of the best pancakes I have ever had at the
Early Bird
.
Lunch (11:30am)
A chicken panini at Rae G Cafe.
Dinner (5:30pm)
A half curry chicken salad with mushroom soup at the Gypsy Den. All so tasty!
Dessert (7:00pm)
Melon. Yum!
Thank you for stopping by. I hope your day was full of healthy meals! 
♥ ♥