Tags
Back to Autumn, Blog Party, Guest Blogger, Health Inspirations, Muffins, Pumpkin Muffins, Pumpkin Muffins Recipe, Pumpkin Raisin Muffins, Pumpkin Raisin Muffins Recipe, Pumpkin Raisin Recipe, Raisin Muffins, Raisin Muffins Recipe, Raisin Pumpkin Muffins, Recipe Swap, Recipe Swap Blog Party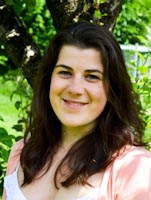 Antonia is a 22-year old nutrition student currently doing an internship in Munich. She started her blog as a creative outlet where she could share her favorite recipes with her family and friends while studying in England. She shares recipes for everything from traditional Austrian dishes which she learned to cook from her grandparents and mother to everyday favorites. In addition to posting recipes she shares snippets from her daily life, documenting the food she eats along the way.
Back to Autumn
by Antonia @ Health Inspirations on October 20, 2012.
I've been meaning to use up my last can of pumpkin puree since December. But with Spring right around the corner it just never seemed right to start baking a "autumn dessert". However, when I saw that Julie posted a pumpkin recipe I decided to give it a go as well. At least the weather this weekend was perfect for some full-of -spice Pumpkin Raisin Muffins.
I started out by making one batch (4 muffins) but they were so delicious that I ended up eating 2 straight away which led me to making a second batch (another 4 muffins) last night. Because I didn't trust myself around the second batch of muffins, I immediately froze them for an on-the-go breakfast or afternoon treat. For the muffins I adapted a recipe from The Pioneer Woman.
Pumpkin Raisin Muffins
Ingredients
40g (1/4 cup) brown rice flour
40g (1/4 cup) all-purpose flour
30g (1/4 cup) brown sugar
1 tsp. baking powder
about 1.5 tsp. spices: ground ginger, ground nutmeg, cinnamon
2 tbsp. (30g) butter
170g (1/2 cup) pumpkin puree
70ml (about 1/4 cup) coconut milk
1 whole egg
1 tsp. vanilla extract
30g (1/4 cup) raisins
Instructions
Preheat the oven to 200°C. Line or grease 4-6 muffin tins.
Sift the flours into a bowl. Add the sugar, baking powder and spices.
Then add the butter. Cut it into the bowl and then using your hands, incorporate it into the flour-sugar mix.
In a separate bowl mix together the pumpkin puree, milk, vanilla extract and egg. Stir gently to combine.
Then add the pumpkin mix to the dry ingredients and stir to combine. If desired add the raisins.
Fill an equal amount of batter into the muffin tins, (sprinkle with a dash of brown sugar) and bake for approximately 20 minutes.
As you will notice I used brown rice flour for this recipe, but you can certainly also substitute it with all-purpose flour if you like.
If you decide to sprinkle a little bit of brown sugar on top before baking it will give the muffin a light, sugary crust.
Hope everyone has a relaxing rest of the weekend
Thank you Antonia @ Health Inspirations
for your generous contributions!
Enjoy!
♥ ♥