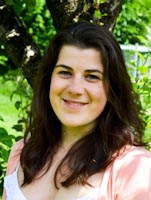 Antonia is a 22-year old nutrition student currently doing an internship in Munich. She started her blog as a creative outlet where she could share her favorite recipes with her family and friends while studying in England. She shares recipes for everything from traditional Austrian dishes which she learned to cook from her grandparents and mother to everyday favorites. In addition to posting recipes she shares snippets from her daily life, documenting the food she eats along the way.
My Favorite Things…
by Antonia @ Health Inspirations on October 20, 2012.
Click Here for original post!
Remember, in "Sound of Music" when Maria sings about her "Favorite Things"…
I believe she mentions crisp apple strudels and schnitzel with noodles. Well, I've posted about Schnitzel before, which is without doubt the most popular Austrian food. However, before flying back to England on Monday, I thought I would complete the list of famous Austrian Eats and tell you all about the Viennese Apple Strudel (Apfelstrudel). I couldn't agree more with Maria (Julie Andrews) in saying that it's one of my favorite things…
At home we serve Apple Strudel with Vanilla Sauce and a dollop of whipped cream. Traditionally, it is filled with raisins, nuts, breadcrumbs and of course a lot of apples.
Austrian Apple Strudel
recipe adapted from "Die gute Küche" – Plachutta & Wagner
For the dough you will need:
200g flour
1/8 l lukewarm water
1 tbsp. + 1 tsp. oil
1 egg
pinch of salt
butter, melted
For the filling you will need:
3/4kg – 1 kg apples, peeled
30 g butter
1/2 cup breadcrumbs
1/3 cup nuts, chopped
50g sugar
optional: 60 g raisins
cinnamon
1 egg or melted butter
Start by making the dough:
Onto a clean kitchen surface measure out the flour.
Onto the flour add the salt, oil and egg and using a fork mix everything together to form a ball of dough.
Roll out the dough (as thin as possible) and sprinkle it with the oil.
Let the dough rest (under a cover) for 30 minutes.
Then add a little flour to the dough and roll it out evenly. Add a little butter and let it rest for a couple of minutes. Before adding the filling carefully lift the rolled out dough onto a baking tray.
Now make the filling:
Cut the apples into thin slices and put them into a large bowl. Add the sugar, nuts, cinnamon and if desired the raisins.
In a small skillet, melt the butter and add the breadcrumbs. Wait until golden brown. Don't forget to stir!
Now you are ready to combine everything:
Preheat the oven to 220°C.
Onto the rolled out dough add the breadcrumbs. Then add the apples on top of that.
Carefully roll the dough together and close the ends by rolling them up.
Coat with a thin layer of butter or with an scrambled up egg.
Put the strudel into the preheated oven let it bake for 40 minutes.
Serve with a sprinkle of sugar and a side of whipped cream.
Thank you Antonia @ Health Inspirations
for your generous contributions!
Enjoy!
♥ ♥