Posted by Jennifer (the student) on October 20, 2012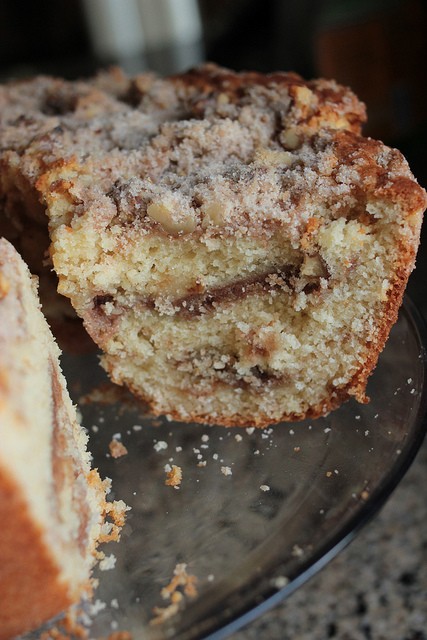 My mom saved recipe from the Los Angeles Time in the 1970's and I think this is another recipe that originally came from the Los Angeles School District in the 1950's. No matter where it came from it has been a family staple ever since.
Ingredients for Cake:
1 ½ cup cake flour
½ cup flour
1 tsp baking soda
1 tsp baking powder
½ cup butter
1 cup sugar
1 egg, lightly beaten
1 tsp vanilla
1 cup sour cream
Ingredients for Topping:
¼ cup flour
¾ cup light brown sugar, packed
¼ tsp salt
1 cup walnuts, chopped
¼ cup butter, cold
Instructions:
Pre-heat oven to 350 degrees.
All ingredients should be at room temperature. In bowl mix together flours, soda and baking powder.
In another bowl cream together butter with sugar until fluffy and light. Add egg and vanilla and mix well. Add half of dry ingredients, mixing just until flour is blended. Blend in sour cream, then remaining dry ingredients.
Spread half of the batter lightly into a 10-inch tube pan. Sprinkle with half of Topping and spread with remaining batter. Sprinkle with remaining Topping. Bake for 40 to 45 minutes. Makes 8 servings.
Enjoy!
 ♥ ♥