Posted By Jennifer (the student) on February 23, 2012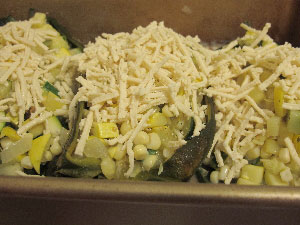 Chile Relleno is a popular Mexican dish, translated it means "stuffed chile." Traditionally, chile relleno is a dish that is stuffed with cheese, battered and then deep-fried. I thought with a few changes, I could make this dish healthier and just as tasty.
INGREDIENTS:
4 poblano chilies (can substitute ancho or anaheim chilies)
1-2 Tbsp olive oil
1 onion (diced)
2 yellow crookneck squash (diced)
2 ears of corn (cut corn of the cob)
2 zucchini (diced)
½ cup shredded monterey jack cheese (or any cheese you like)
salt and pepper
DIRECTIONS:
Preheat oven to 375 degrees.
Cook chilies on a gas-stove top or on a grill pan. Turn peppers frequently, blacken evenly without burning thought or overcooking. Once peppers are blackened and blistered, place in a sealed glass bowl (use a lid or plastic wrap) and let sit for 20 to 30 minutes.
Meanwhile, in a large skillet over medium heat add olive oil and diced onion. Cook for several minutes.
Add squash, corn and zucchini to skillet and sauté for 5-7 minutes. Stir frequently.
Peel the blackened skin off the peppers. Then cut a slit down the side of the pepper starting close to the stem down to the tip. Carefully, remove the seeds and veins as to not tear the pepper.
Carefully, stuff each pepper with ¼ of sautéed vegetables per pepper.
Place stuffed peppers in a baking dish and top with cheese.
Bake 10 to 15 minutes to melt the cheese.
Remove from oven and serve immediately.
♥ ♥