Tags
bowfinger, bowfingermovie, dinner and a movie, dinner and a movie menu, dinner and a movie pasta recipe, dinner and a movie recipe, dinnerandamovie, dinnerandamoviemenu, dinnerandamovierecipe, dinnerandamoviewithmenu, dinnerandmovieideas, eatingwell, hazelnut cookies recipe, hazelnutcookies, hazelnutcookiesrecipe, meat marinara sauce recipe, meatmarinarasauce, meatmarinarasaucerecipe, melon salad, melon salad recipe, momwhatsfordinner, movienightrecipes, nutella, nutellahotchocolate, nutellahotchocolaterecipe, pasta recipe
Posted by Jennifer (the student) on January 19,  2013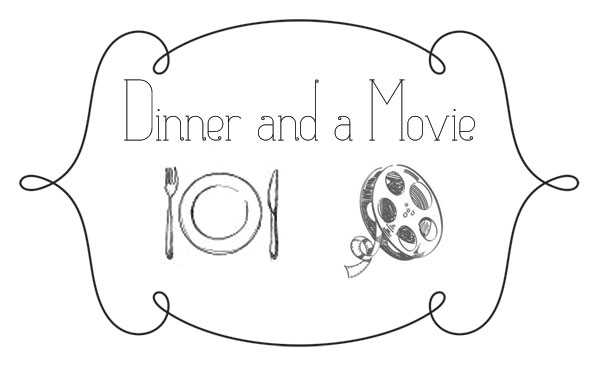 Welcome to our first "Dinner and a Movie" our new feature will preview a suggested movie along with recipes for a romantic dinner for 2. 
Join us as we roll out the red carpet with Bowfinger and a dinner menu guaranteed to please your palette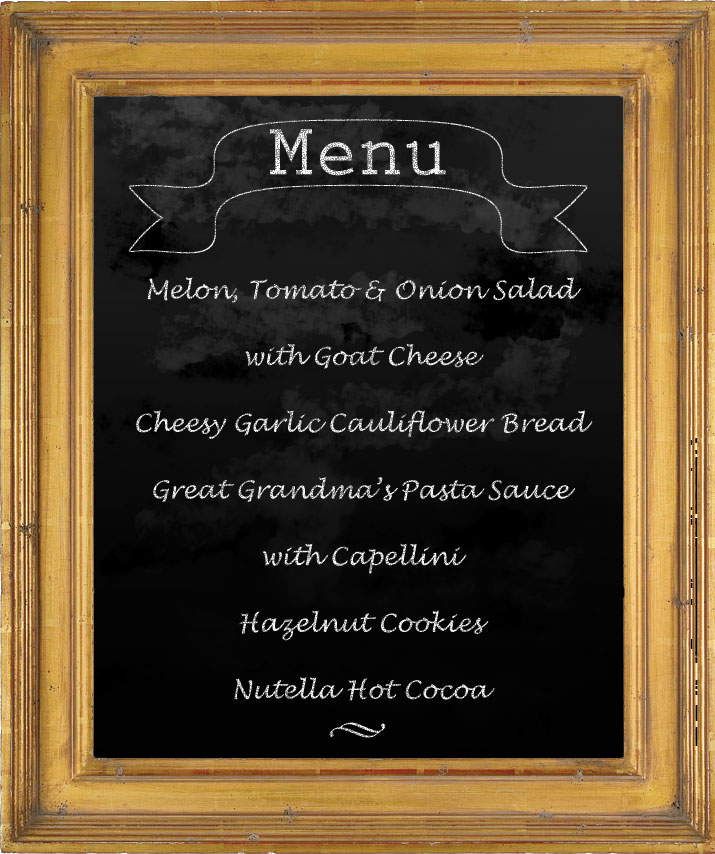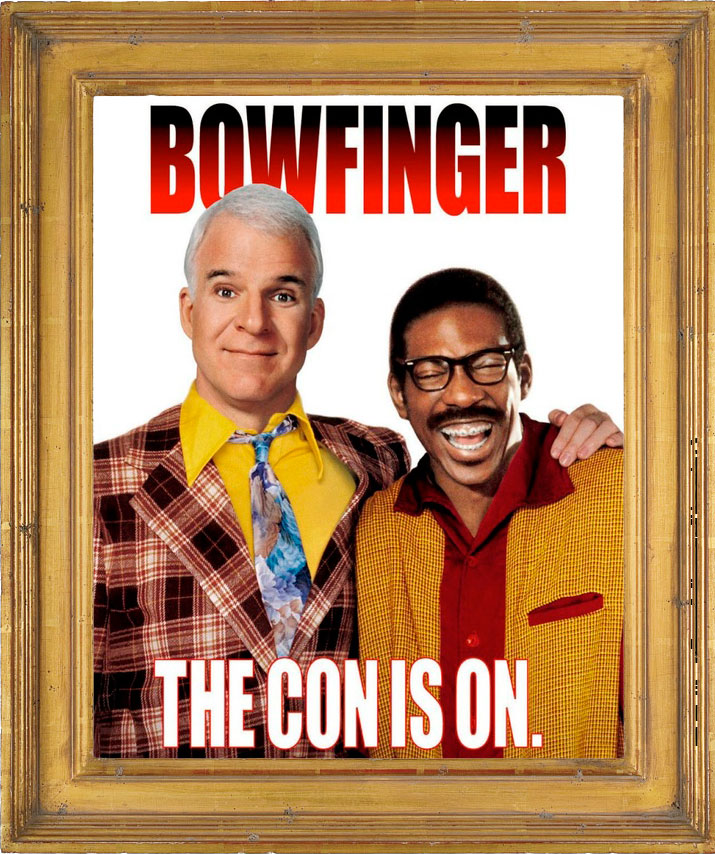 Bowfinger is a good-hearted comedy about a wanna-be filmmaker, played by Steve Martin, who is trying to get his movie made. He fails to get a major star for his movie and decides to secretly shot the movie around him. I always root for the underdog and I always like stories about second chances and I guess that is why I enjoy this movie so much. This movie is funny, silly and sweet in fact, anytime I am sad about sometimes I watch this movies and it always lifts my spirits. The menu I created is loosely based on Bobby (played by Steve Martin) and Daisy's (played by Heather Graham) first date.
Melon, Tomato and Onion Salad with Goat Cheese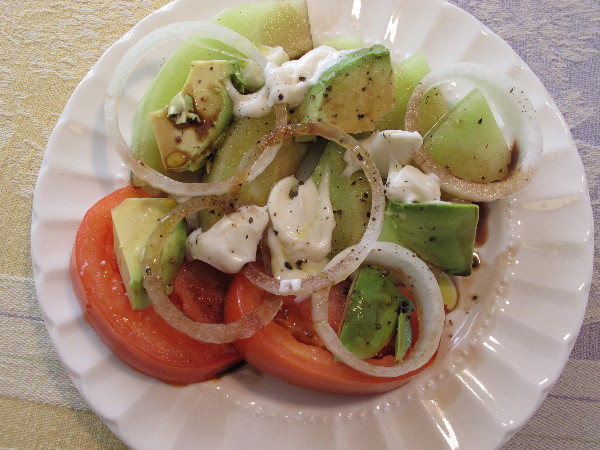 This easy salad is sweet and so tasty.
Adapted from
Eating Well
Makes 2 servings
Ingredients:
¼ cup sweet onion, thinly sliced
¼ small ripe melon, sliced into wedges with skin removed
½ large tomato, sliced
1 avocado, sliced with skin removed
¼ cup goat cheese, crumbled
2 TBSP balsamic vinegar
2 TBSP olive oil
fresh ground pepper, to taste
sea salt, to taste
Instructions:
In a medium bowl, fill with ice water and add sliced onion. Cover with a handful of ice and set aside for 20 minutes. Drain and pat dry.
Meanwhile, slice melon into wedges with seeds and skin removed and set aside.
Slice tomatoes and avocado, set aside.
On two salad plates, arrange melon and tomatoes on the bottom of the plate.
Top with onion, avocado and goat cheese.
Drizzle both plates with balsamic vinegar and olive oil.
Sprinkle with salt and pepper.
Cheesy Garlic Cauliflower Bread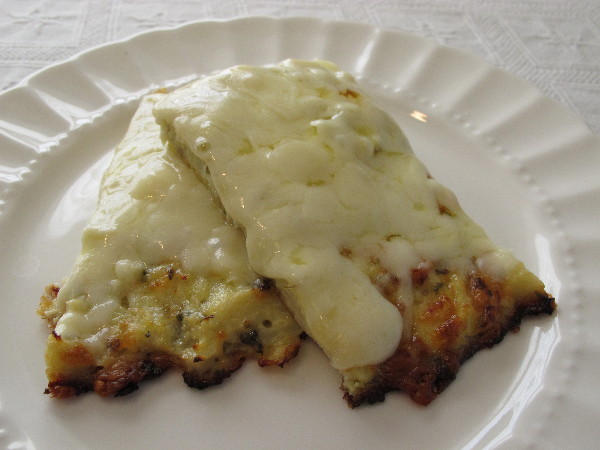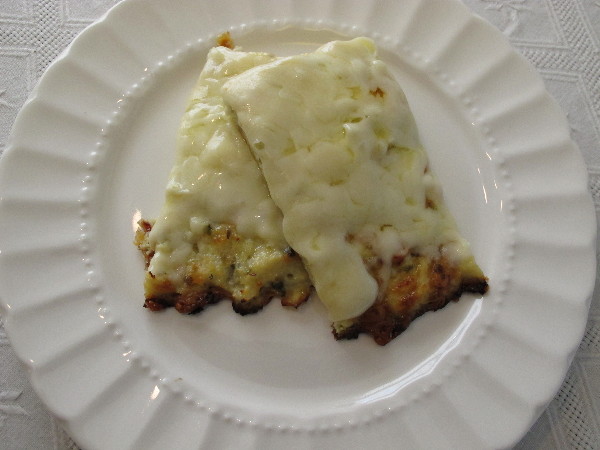 We love this recipe at my house. With a traditional Italian meal, they are usually full of simple carbs from white bread and pasta. My goals were to add more vegetables and still have great taste. This recipe would also be great as a pizza with toppings.
Adapted from
Mom, What's for Dinner?
This makes about 6 slices
Ingredients for Bread:
1 cup cooked cauliflower, riced or mashed
½ cup Mozzarella cheese, shredded
½ cup Parmesan cheese, shaved
1 egg, beaten
1 tsp dried oregano
½ tsp crushed fresh garlic
½ tsp garlic salt
olive oil
Ingredients for topping:
1 TBSP butter
1 garlic clove, finely minced
¼ cup mozzarella cheese, shredded
¼ cup Parmesan cheese, shaved
Instructions:
Preheat oven to 450 degrees.
Prepare baking sheet by spreading a few drops of olive oil and topping with parchment paper or use a nonstick baking mat with a little olive oil on top.
Steam cauliflower florets on stovetop for about 15 minutes.
Place in ricer or in a mixing bowl and mash with masher.
Add cauliflower to a mixing bowl and combine with egg, Parmesan and Mozzarella.
Add oregano, crushed garlic and garlic salt, incorporated with cauliflower mixture.
Transfer this mixture to your baking sheet, using your hands to pat into a large rectangle.
Place in oven for 15 minutes.
In the meantime, melt butter with garlic in a saucepan.
10. Remove cauliflower bread from oven and spread butter with garlic on top of bread and top with Parmesan and Mozzarella cheeses.
11. Return to oven and remove once cheese has melted.
12. Slice and serve.
13. Enjoy!
Tips:
*I found that the cauliflower was full of moisture if used right after steaming. I think it was easier to work with when the cauliflower was steamed the day before.
*1 head of cauliflower will make about 3 cups. If you want to use the cauliflower all at once just triple the recipe or you can make it several times over the week.
*A ricer makes a finer consistency but mashing works just as well.
Old-Fashioned Meat Marinara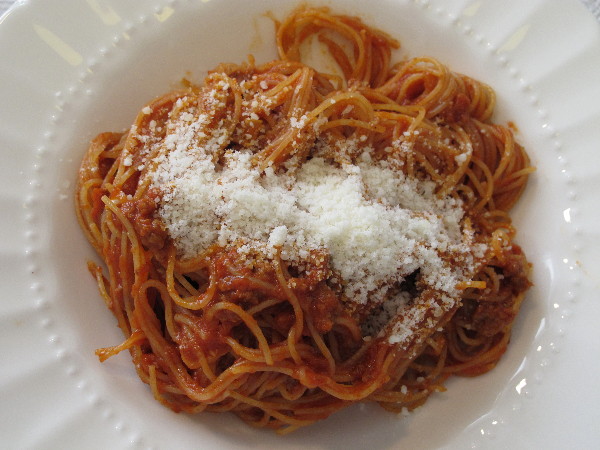 This recipe is one my mom collected long ago and it is a family favorite.
This makes 6 to 8 servings
Ingredients:
2 TBSP olive oil
3-5 cloves of garlic, finely minced
1 lb. ground beef
6 oz tomato paste
24 oz tomato puree
2 TBSP sugar
¼ tsp dried oregano
¼ tsp garlic powder
½ tsp dried onion
5 leaves of fresh basil, chopped
salt and pepper, to taste
¾ cup water
Instructions:
In a large stockpot, add olive oil and garlic. Sauté for about 2 minutes.
Add meat to stockpot and cook until meat is thoroughly cooked, about 7 to 10 minutes. Season with salt and pepper.
To meat mixture, add tomato paste, tomato puree, sugar, oregano, garlic powder, dried onion and basil. Combine and add water.
Let simmer for at least 2 hours, stirring occasionally.
Serve hot over your favorite pasta.
Enjoy!
Tips:
*This tastes better if you make it a day in advanced, which makes it easy for a movie date.
*I used whole-wheat pasta to add more fiber to the meal and I like the flavor just as much.
*I freeze half of this sauce for another meal.
Italian Hazelnut Cookies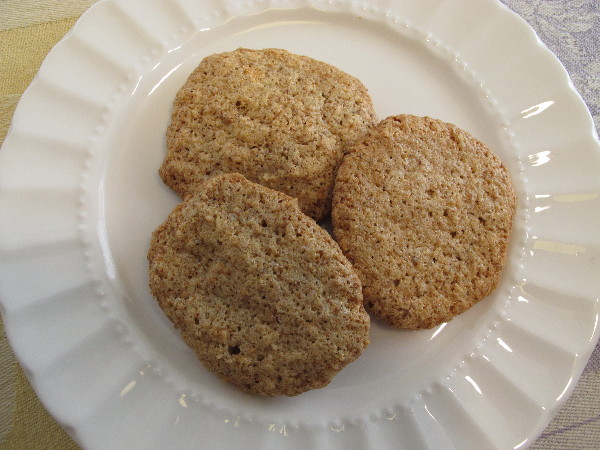 These cookies can be made a day or two ahead, which makes them perfect for a movie date. They are crispy and light and taste great with the Nutella Hot Chocolate.
Recipe from Eating Well
Makes about 2 ½ dozen
Ingredients:
2 cups hazelnuts, toasted and skinned
1 ¼ cups sugar
4 egg whites
½ tsp salt
1 tsp vanilla extracts
Instructions:
Preheat oven to 350 degrees.
Pour hazelnuts on a baking sheet and toast for 9-10 minutes.
Remove nuts from the oven and let cool for a few minutes. Then with a clean dishtowel rub hazelnuts to remove the papery skins.
Preheat oven to 325 degrees and position the racks as close to the center as possible. Line 2 baking sheets with parchment paper or nonstick baking mats.
In a food processor, pulse hazelnuts and sugar until finely ground. Scrape into a large bowl.
In another large bowl, beat egg whites and salt with an electric mixer on high speed until stiff peaks form.
Using a rubber spatula, gently fold egg whites into nut mixture. Add vanilla and gently combined.
On the prepared baking sheets, measured batter into tablespoonfuls and drop on baking sheets 2 inches apart.
Bake for 25 to 30 minutes, until golden brown. Let cool on baking sheet for 5 minutes. Then gently transfer cookies to a wire to completely cool.
Tips:
* These cookies will keep up to a week, if stored in an airtight container.
Nutella Hot Chocolate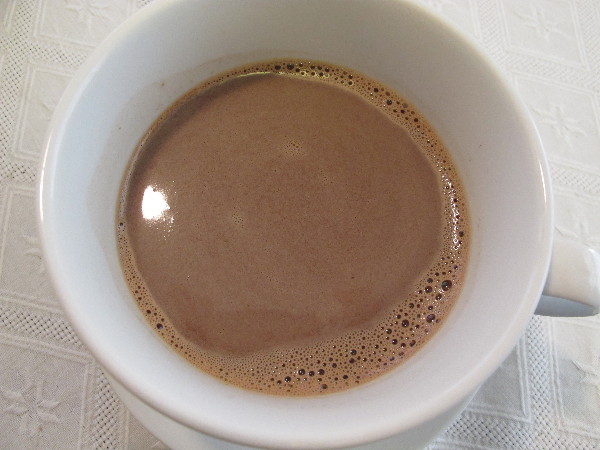 This hot chocolate is great with the hazelnut cookies recipe above and is perfect to snuggle up with someone special and watching a movie.
Ingredients for Hot Chocolate:
2 cups of milk (your favorite)
2 to 4 TBSP Nutella
1 to 2 TBSP Cocoa or Hot Chocolate Mix
A pinch of salt
Ingredients for Whipped Cream:
1 cup heavy whipped cream
1 TBSP sugar
½ tsp vanilla
Instructions for Hot Chocolate:
In a medium saucepan, whisk all hot chocolate ingredients until blended and hot.
Pour into a mug and top with homemade whipped cream.
Instructions for Whipped Cream:
In a medium mixing bowl, pour all ingredients and start to beat with an electric mixer on a low speed.
Gradually work up to high speed and beat until it is the consistency of whipped cream.
Tips:
* Place mixing bowl and beats in the freezer for 10 to 20 minutes before making the whipped cream. This will shorten the time it takes to make the whipped cream.
* Adjust the amount of Nutella and cocoa to your liking. I made it stronger and lighter and my favorite was the lighter version but it is up to you.
♥ ♥