Posted by Jennifer (the student) on September 6, 2012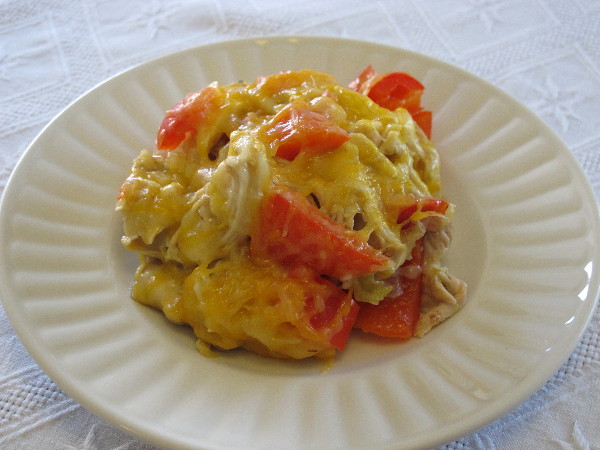 At my house, we love Mexican food but I always feel like I eat to many carbohydrates whenever we have Mexican. Between the chips, tortillas and rice it is sometimes too much. This recipe is a result of my love of the Mexican flavors and trying to reduce the amount of carbs. This dish is so simple and I think it is very tasty and satisfying.
INGREDIENTS
1 TBSP olive oil
2 red or green bell peppers, chopped
½ onion, diced (I like the sweet onions)
3 cups cooked shredded chicken (I often used a rotisserie chicken from the market)
4 oz can diced green chiles
½ cup salsa verde
3 cups of shredded cheese (sharp cheddar or Monterey jack or a combination)
salt and pepper
spray olive oil
DIRECTIONS
Pre-heat oven to 375 degrees. Lightly spray an 11 x 7 baking pan with spray olive oil and set aside.
In a large sauté pan, over medium heat add olive oil, bell peppers and onion. Sauté for about 10 minutes.
In a mixing bowl, combine peppers, onion, chicken, chiles, salsa, and 2 cups of cheese. Add salt and pepper to taste. (Usually I don't add much if any salt because I think the salsa has enough.)
Pour mixture into baking pan and top with the remaining cup of cheese.
Bake for 15 to 20 minutes, until cheese is melted and the dish is heated.
Remove from oven and let sit for 5 minutes before serving.
Enjoy
I usually serve with a large dollop of fat-free Greek yogurt (instead of sour cream).
♥ ♥