Posted by Jennifer (the student) on August 28, 2012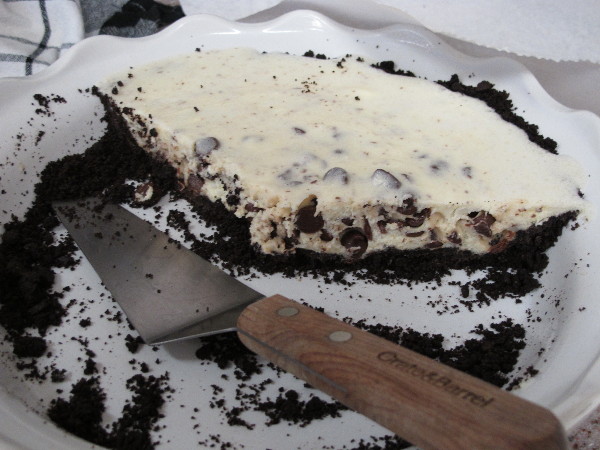 Ingredients
Crust
Cooking spray
5 TBSP unsalted butter, melted
1 package of chocolate wafers (Nabisco or similar)
Filling
 4-cups of mini marshmallows
½ cup whole milk
1-cup heavy cream
1-cup semi sweet chocolate chips (roughly chopped)
Directions
Crust
Pre-heat oven to 350 degrees
In Ziploc bag, place chocolate wafers, crush cookies until they are a powder consistency. I used a meat tenderizer on the flat side.
In a bowl, combine wafer powder and melted butter.
Spray pie tin with cooking spray and pour wafer mixture into pie tin. Press mixture into the sides and bottom of tin to form the crust.
Bake crust for 10 minutes.
Remove from oven and let cool.
 Filling
In a double boiler over medium heat, add marshmallows and milk. Melt marshmallows and combine with milk.
Remove from heat and let cool completely.
With a mixer, whip cream until it forms peaks.
Gently fold in cooled marshmallow mixture into the whipped cream.
Gently fold in chocolate.
Pour mixture into cooled piecrust.
Refrigerate for 3 or more hours.
Serve and enjoy.
♥ ♥