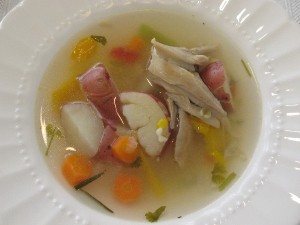 Posted by Jennifer (The RD)
on January 16, 2012
This is the soup I made for Jennifer when she was sick.  🙂
Ingredients
3 quarts water
1/4 cup Better than Bouillon chicken soup base
1/2 of a Rotisserie chicken, cooked and shredded, but leave the drumstick intact
2 tsp. grated ginger
1 TB fresh rosemary, removed from stem and washed
1 cup cilantro (remove the large part of the stem with no leaves), chop loosely after measuring
1/2 orange bell pepper, sliced
1/2 green bell pepper, sliced
1/2 red bell pepper, sliced
3/4 cup carrots, cut into coin sized pieces
8 baby red rose potatoes, washed and quartered
1/4 tsp freshly ground pepper
Pour water into a soup pot and add the soup base, ginger, rosemary, shredded chicken, and drumstick.  Simmer, uncovered for 30-45 minutes or until it looks like the chicken is ready to fall off of the drumstick.
Remove the meat from the drumstick and add it back to the soup.  Discard the bone.
Add the rest of the vegetables and ground pepper and simmer for another 30 minutes, or until the vegetables are done.
 ♥ ♥