Posted by Jennifer (the student) on May 20, 2013
I am so excited to be participating in my third Surprise Recipe Swap . Each month Jutta from Hungry Little Girl is hosting a Surprise Recipe Swap, participants are assigned a blog and they then choose a recipe to make and write about in a blog post. This month I was assigned the Morsels of Life blog. This food blog has a large selection of all types of recipes and has the cooking philosophy of using everyday materials that are easy to prepare. After studying all the recipes I narrowed it down to three recipes Honey Lemon Chicken, Cranberry Glazed Meatballs and White Pizza. In the end, I choose the Cranberry Glazed Meatballs and I am sure glad I did because they were so tasty and very easy too. Take some time and explore the recipe collection at Morsels of Life.
by CJ Huang at Morsels of Life
Flavorful, moist meatballs bathed in a tart yet sweet cranberry sauce for a savory contrast.
Prep time: 15 minutes
Cook time: 15 minutes
Total time: 30 minutes
Yield: 4 servings
Ingredients:
14 oz can jellied cranberry sauce
1/2 cup Panko bread, crumbs
1 egg
1 pound ground meat
2 tablespoons milk
1/2 tablespoon Herbes de Provence
1/4 cup  ricotta cheese
Instructions:
Combine all materials except cranberry sauce.
Form meatballs about an inch in diameter.
Bake at 375F for 15 minutes, until cooked through.
While baking meatballs, in a small saucepan over medium heat warm cranberry sauce.
Serve meatballs topped with warm cranberry sauce.
Enjoy!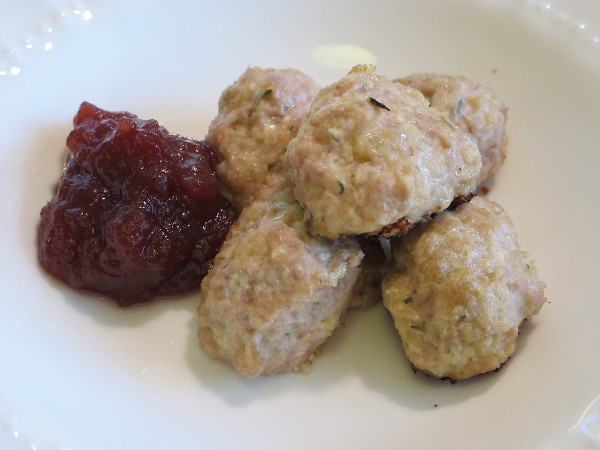 Thanks for stopping by!
♥ ♥