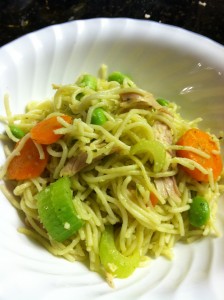 Posted by Jennifer (the RD)
on December 5th, 2012
I made this dish for myself when I came back from Vegas and was very tired last week.  It was all ingredients that I had in my refrigerator and could easily whip up!
INGREDIENTS:
2 1/2 cups cooked spaghetti
1 TB canola oil
1 TB "better than bouillon" chicken soup base
1 clove chopped garlic
2 portions of frozen, chopped cilantro (found at Trader Joe's or Fresh and Easy)  or 1/2 cup finely chopped fresh cilantro
3/4 cup  sliced carrots
3/4 cup  choped celery
3/4 cup boiled and shelled edamame
1 cup shredded, cooked chicken
Saute carrots, celery, garlic, cilantro  and edamame in canola oil in a large skillet on medium heat until  veggies are barely tender, for approximately 3-5 minutes.
Add soup base and combine until well blended.
Add in  spaghetti noodles and chicken and mix together until all ingredients are warmed through and thoroughly combined, for an additional 3-5 minutes.
♥ ♥