Posted by Jennifer (the student) on October 31, 2012
Ingredients:
6 lasagna noodles
1 cup ricotta cheese
15 oz can of unsweetened pumpkin
1 tsp curry
¼ tsp sea salt
¼ tsp chili powder
¼ tsp cumin
15 oz can coconut milk
2 TBSP butter
2 TBSP flour
¼ tsp fresh ground nutmeg
¼ cup pecorino Romano cheese, grated (any hard cheese that has a salty taste should work)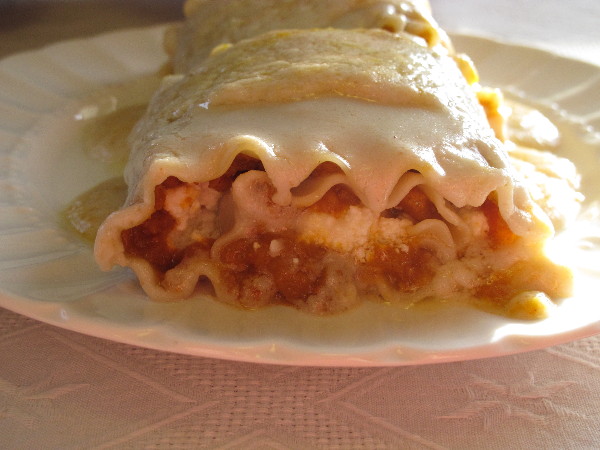 Instructions:
Preheat oven to 350 degrees and grease a baking pan (8" square will work).
Cook lasagna noodles according directions on package.
Set noodles aside to cool, keep separate because they will stick together.
In a mixing bowl, combine pumpkin, curry, salt, chili powder and cumin and set aside.
In a saucepan, melt butter. Once butter is melted, add flour and combine and cook for a few minutes. Then whisk in coconut milk and bring to a simmer. Cook for 7-8 minutes until thickened. Add nutmeg, combine and set aside.
Assemble pinwheels by laying noodles on a cutting board. First spread a layer of the pumpkin mixture and stop 1 inch from the end of the noodle. In the middle of pumpkin, spoon a line of ricotta cheese. Gently roll the noodle away from you and place seam side down in the baking pan. Repeat with remaining ingredients.
Pour coconut milk sauce over prepared noodles and sprinkle with grated cheese.
Cover with foil and bake for 25 minutes.
Enjoy!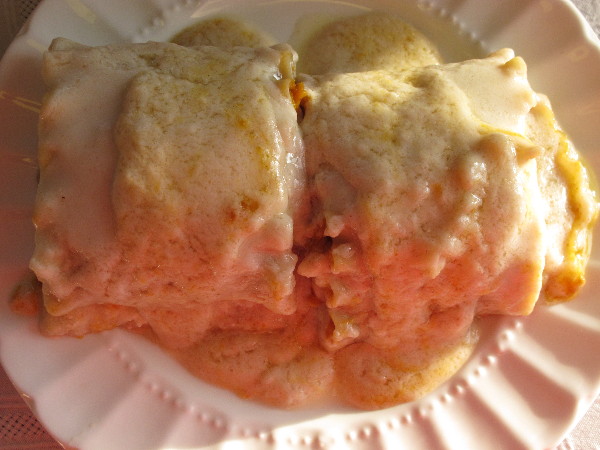 ♥ ♥