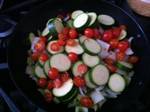 Posted by Jennifer (the RD) on July 23, 2012
Have you ever had a family member on a special diet over to your home for a dinner or a celebration?  This can be a real challenge for both the host and guest.  I just wanted to share that there are many resources out there for us when it comes to cooking for our friends and families that may have to follow a special diet.  It is important for the guest to speak up about his or her dietary restrictions and as equally important for the host to accommodate these restrictions.    Here are some very good online references for those of you searching for ideas for yourself or your loved one that is on a special diet:
Does anyone else have any good resources they would like to share?
♥ ♥