Posted by Jennifer (the student) on January 14, 2013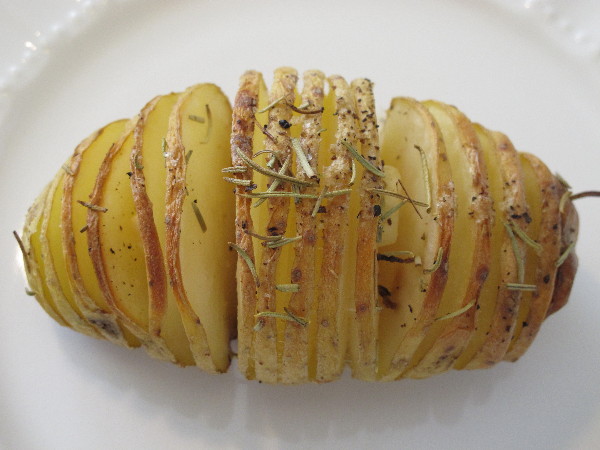 I have seen lots of pictures on Pinterset of the Hasselback potatoes and finally I decided to try them for myself. I am so glad I tried these potatoes they are so tasty, soft inside and crispy on the outside. I will be making theses often.
Inspired by Foodie Wife
Ingredients:
2 medium Yukon Gold potatoes
1 TBSP olive oil
1 TBSP unsalted butter
1 garlic clove, thinly sliced
½ tsp dried thyme
salt and pepper, to taste (I used Herbamare)
Instructions:
Preheat oven to 400 degrees.
Line baking sheet with foil or  parchment paper.
Place a potato in a bowl of a large wooden spoon; the spoon will act as a guide when slicing the potato. Cut across at about 1/8 intervals, without cutting through the potato.
In a small saucepan, melt the butter and whisk in the olive oil.
Lightly brush prepared baking sheet with butter/olive oil.
Drizzle the remaining butter/ olive oil.
Season with rosemary, salt and pepper.
Bake for 1 hour and 10 to 20 minutes.
The flesh should be tender and the outside should be crispy.
10. Remove from the oven and serve.
11. Enjoy!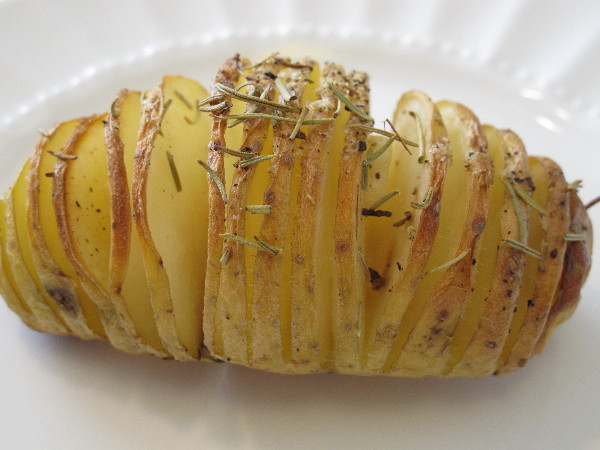 I have also seen versions of these potatoes with cheese that will be my next attempt.
These can also be made with Russet, New Potatoes or just regular baking potatoes.
♥ ♥