Posted by Jennifer (the student) on January 24, 2013
When I stumbled upon Plain Chicken's recipe for Sausage Rolls, I was immediately reminded of Pigs in a Blanket from my childhood. I printed the recipe and put it away for my winter break, thinking it would be a treat for us.  We enjoyed the Sausage Roll Ups but fell in love with the Buttermilk Syrup, which I think has endless uses and would be a great replacement for maple syrup, if you are out of it and needed pancakes. 🙂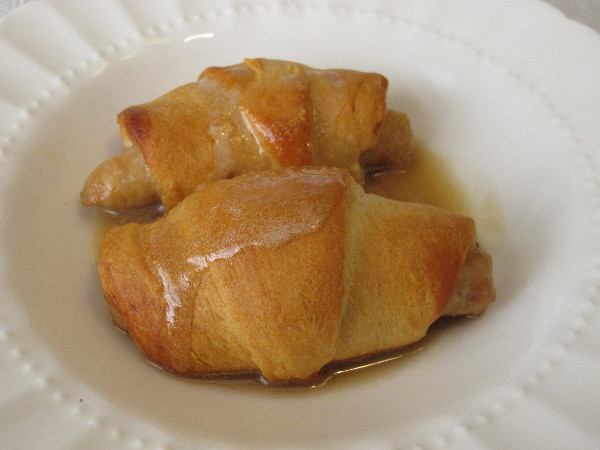 Recipe from Plain Chicken
Ingredients for Sausage Roll Ups:
1 can refrigerated crescent rolls
8 breakfast sausage links
Instructions for Sausage Roll Ups:
Preheat oven to 375 degrees.
Cook sausage in skillet until lightly brown, approximately 5 minutes and drain. The sausages will not be cooked all the way though.
Unroll crescent roll dough into 8 triangles. Place one cooked sausage onto the end of the dough triangle and roll dough around the sausage.
Place on baking sheet and bake for about 15 minutes or until they are golden brown.
Pour buttermilk syrup over the rolls and serve.
Enjoy!
Ingredients for Buttermilk Syrup:
1 ½ cups buttermilk
1 cup sugar
1 cup brown sugar
½ cup butter
1 tsp baking powder
1 tsp vanilla
Instructions for Buttermilk Syrup:
In a large saucepan, melt butter. Add buttermilk and sugars and bring to a boil over medium heat.
Remove from heat and whisk in baking soda and vanilla. It will bubble up and double in size.
The bubbles will go away as it cools. Store in the refrigerator.
The syrup will keep for about a month.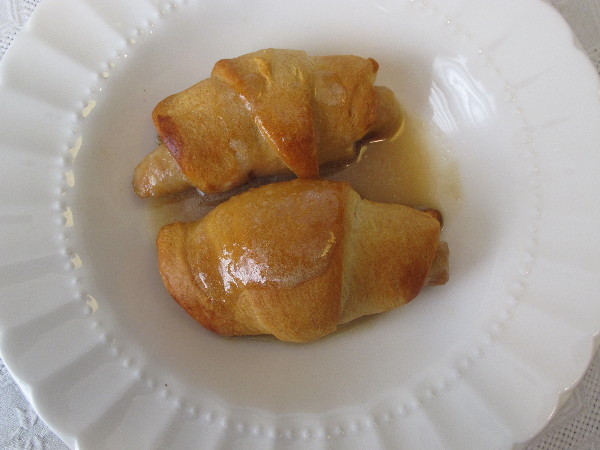 ♥ ♥