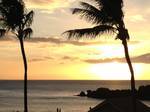 MAUI Sunset 
Posted by Jennifer (the RD) on August 6, 2012
A few weeks ago, I took a required online health assessment through my employer.  My area of improvement was my consistent lack of sleep.  According to Harvard's Women's Health Watch, 75% of us have disrupted or inadequate sleep at least a few nights a week.  Although the number varies from person to person, on average, most people require 8 hours of sleep per night.    Why is this a problem?  Lack of sleep can lead to the following (and these are just a few):
Increased risk for high blood pressure
Increased risk for cardiovascular disease
Increased risk for obesity
Mood disruption
Decreased immune function
I just came back from a vacation in Maui and feel wonderful.  I actually got my 8 hours of sleep every night!  It was amazing how much better I felt.  Being in a truly stress free environment really helped me catch up on my sleep, but here are some other ways to increase the amount of hours of sleep daily
Decrease the stress in your life at work and at home (I know, easier said than done….)
Decrease alcohol intake
Decrease caffeine intake, especially before you go to bed
Improve environmental conditions (temperature, pillows, mattress, etc.)
Anyone else have any ideas?
 ♥ ♥